Kids and counselors every summer give me the world's quickest indoctrination into pop culture. Last year it was Watch Me (Whip/Nae Nae). A couple of summers before that, it was Stanky Legg, and just before that, Soulja Boy. If we go far enough back, we're talking Macarena. One former counselor friend asked what it was this year, and the answer is "dab". I can dab with the best of them. I can also throw shade when necessary.
But those surely aren't the universally agreed upon highlights of the summer!
It was a great First Term for the Pawnees, who fairly dominated competitions and ended up with the Cup for a third consecutive First Term. Pawnees also won war canoe by less than a second. Our High-Point campers were Midget Catalina R, Sophomore Riley G, Junior Ava Grace D, Senior Eve W and Teen and All-Camp Emily B. The tribes were led by Pawnee Natalie S and Shawnee Rachel H.
Second Term, by contrast, was totally dominated by the green, and the Shawnees won the tribe Cup for a record seventh consecutive Second Term. The past record was six straight Second Terms from 1962-67, also held by the Shawnees. But it was the Pawnees who won the Olympic-quality war canoe race by under half a second. Very exciting. Second Term High-Point girls were Midget Brooke J, Sophomore Allison A, Junior Kate R, Senior and All-Camp Sawyer P, and Teen Mj C. Chieftains were Pawnee Suzanne A and Shawnee Lauren B.
The Kitty's Korner award for counseling excellence recognizes the effort, teamwork and pep they bring to their summer jobs. Our Rookies were Angie B and Kate J in First Term and Sam J in Second Term; Veterans were Eilidh C in First Term and Kaitlin B in Second. Star LITes are the volunteer Heart LITes who are named by their peers as outstanding: First Term Julieta I and Second Term Greer C.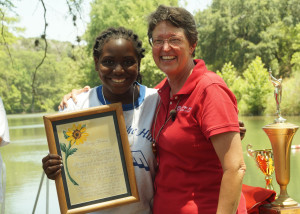 Sunflower is another special honor, given originally in memory of Mimi Downing to the Junior camper who is deemed the friendliest and most inclusive. Voted on by the Juniors themselves, our recipients were Jasmine B in First Term and Rebecca V in Second Term.
Jo Jones was the young lady whose virtues were so inspiring that after her untimely death, her parents decided to make Heart O' the Hills Inn into Heart O' the Hills Camp in her memory. They established the Jo Jones Memorial Sportsmanship Award, and each term we name an outstanding camper to receive it at our Memorial Vespers ceremony. The Top Ten Juniors present the vespers, each describing one of the Eight Traits (and two serving as understudies and ushers).
The Top Ten were Jessica A, Emily B, Jasmine B, Amelia C, Holly G, Maggie G, Elle G, Riley G, Aniston L and Kate T in First Term, and Mckenzie B, Sophia C, Harmon F, Lucia G, Vivienne L, Molly R, Zoey R, Lawsen S, Avery S and Rebecca V in Second Term. Our Jo Jones award recipients were Rachel H and Chloe L.
We recognize our three-year campers with a medallion, five-year with an embroidered blanket, seven-year with a ring, and 10-year with a diamond. This summer we had five campers and a counselor in each term: Emily B, Sarah B, Jordan C, Ashton S, Isabella T and counselor Caitlin F in First, and Mackenzie A, Sammy B, Mj C, Gabi H and Chloe L, plus counselor Michelle M in Second Term. Camper Suzanne A marked her 12th summer with us!
Themed days were a ball; I think most of all I enjoyed the Safari field days. So many clever costumes! One of the fun things brought to us by our Scottish program director was Highland Games, which was a tribal competition, followed by a "wee Ceilidh" (pronounced kay-lee), which involved a lot of dancing and laughter.
It was also the summer of the American Archer: we had five girls (Ashton S [for her second time], Emily B, Josie T, Mj C, and Sawyer P) who reached this highest rank under the Camp Archery Association system, and an additional one (Emily S) who earned the Heart Elite Archer, which goes beyond that.
Where do I stop? Get me talking about camp, and I can go on and on! But really, I must stop.
Did I mention High Noon? Really, somebody stop me.