These are a few of our favorite things…
Our 2016 Head staff shared their favorite moments of the summer! As you read, you will see that they had a hard time picking through all of the amazing things from the summer. Comment below on some of your favorite memories of camp.
Laura Gallagher; Program Director

F
or me, one of the most special nights on camp this year has got to be the Heart's very own Highland Games. Being a proud Scot I was extremely excited to bring this event to camp with the help of my fellow Scottish counselors. However, I must say I was a wee bit apprehensive as to how it would be received by the campers; would they like tossing a swimming noodle in place of a caber? Or being blindfolded and finding their way out of the prickly thistle field? (Don't worry parents; the thistles were represented by bean bags not actual prickly thistles) And just how would the traditional ceilidh (pronounced cay-lay) go down?
Well, this night turned into so much more than a night of running about camp completing silly games then dancing the night away. Highland Games solidified why we bring international counselors to camp; not just for campers to say 'Oh my counselor this year was from *insert country x amount of miles away*', but for campers to gain knowledge of that big world out there. International counselors bring their stories, their flags, their traditional dances and sayings to camp, but most importantly, they come with an open heart. These counselors who are thousands of miles away from home come to camp ready to impart all these special things to campers, enriching the experience as much as possible.
Perhaps the most special moment of this night was to see the campers partake in the ceilidh. Now in primary (elementary) school in Scotland, ceilidh dancing is compulsory in order to learn the traditional Scottish dances. Even though some of us Scots were a wee bit rusty we were very for lucky in Second Term to have a bona fide instructor in Kaitlin B. The girls twirled around the village and embraced learning Scottish dances such as Strip the Willow and the Gay Gordons. And of course, we ended the night with the traditional 'Bonnie Banks of Loch Lomond'.
The Highland Games at the Heart most definitely warmed the heart of this Scottish lassie.
Fallon Parnell; Assistant Program Director
Summer 2016 has been one for the books and I cannot believe that it is over. Camp is quiet, but the work continues as we are already preparing for 2017!!
With all the nighttime activities, gymkhanas, tribe hills, and field days galore there is just one thing that proved to be my absolute favorite: getting to know your girls.
Cliché, I know.
It is the honest truth though. Your girls have taught me so many lessons in the three years that I have been at camp and seeing it all from a different perspective this summer has opened my eyes to how truly wonderful these girls are. From the little moments where they would plaster their faces to the window to watch us have "High Noon" or myself playing "Silly Things with Fallon" with little Ryan Richmond, this summer has changed my life and I cannot thank anyone but your girls for that.
Camp is a place where the campers get to be free, learn life lessons, shine in their own way, and meet people from all over the world. It is also a place for adults like myself to learn that it is okay to be a kid sometimes and let loose. Your girls have taught me that my true self is beautiful, that swimming in the Guadalupe is enjoyable, eating thirds of ice cream is acceptable, and singing at the top of my lungs is the best way to end or start a day.
So yes, my answer is cliché but my reasoning's make it all true. This camp is incredible just like your girls and they will always be the reason I keep coming home.
Caitlin Farmer; Head LITe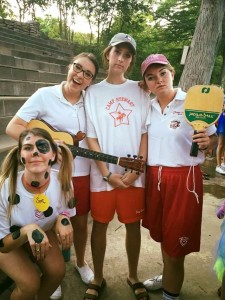 The summer of 2016 was an absolute blast. There are so many memories that were made, which will last a lifetime. From silly moments during orientation to staying up late laughing with the campers. The laughs, cries, celebrations, pushing yourself to do better, trying new things are all a special part of camp. It's hard to pick one thing as my favorite part of camp.
If I had to pick a moment that is memorable to me it would be the time spent down at the waterfront after Sunday night vespers. In this moment everyone is still. The sounds of the wind blowing through the trees and the crickets chirping are on surround sound. The moonlight is glistening in the river while bugs dance on top of the water. In this moment you can really see and appreciate God's creation. Usually, outside of camp, we do not take the chance to look around and soak up the little things. Not having distractions, like electronics, gives everyone a chance to think to relax and think. Sometimes when I need to take a minute, putting myself in this moment puts a smile on my face.
I hope this summer was an amazing experience for new and old Heart girls. Every summer is slightly different from previous years, which makes for new and exciting memories. Remember to take in the little things <3
Emma Gilluly; Head O' Field Sports
My favorite thing about camp is nothing. As I sit here on my last day in the office, I am drawing a blank on what could possibly be my favorite thing about this place. I could talk for hours and hours on how great of a time the campers & I had throughout my Field Sports classes as well as on Field Day. Even though I'm currently Head O' Field Sports, Field Sports was not my favorite thing. By only choosing one thing about camp to be my favorite, I am demoting so many other activities to not being my favorite. As a camper I thoroughly enjoyed all things Tribe related. I counted down the days until I could go back up Tribe Hill. Once I was on War Canoe, my bar partner and I made sure our weights exactly matched during the year so we could match for weigh in. My love for the tribe flourished as I became older and held several officer positions including Chieftain. But if you asked me if this was my favorite thing, I would still say no.
As a Heart LITe, I spent my days serving, scraping plates, sorting mail & trying to avoid all responsibilities. From moving from Adobe 2 to the LITe house, I got my first taste of what camp is like behind the scenes. Even though the mornings were early and the nights were late, being a Heart LITe is a lot more fun when you are with nine of your closest camp friends. As the term moved closer to an end, we all realized that this would most likely be the last summer of all of us together. A lot of memories were made within that house on the hill but again; this still is not my favorite thing.
The summer before college, I did not come back to camp. I spent my days stalking the website and Facebook page. I kept Jane's phone buzzing as I asked permission to not visit once, but twice. Every day I wished I were one year older so I could have been a counselor and had been able to return to camp. The following summer I returned and worked not one term, but two. The first term I was chosen to be a sponsor for my tribe and I was beyond grateful for the opportunity. To put this term in the words of a former Chieftain, "A window was opened, for a moment I could crawl inside and once again be a part of the tribe". I was able to teach the children just as much as they taught me. I saw how compassionate older campers are to their younger sisters. I saw how much campers look up to and adore their counselors. I noticed how sassy midgets can be and how sophomores just want to be your friend. Throughout second term, I was Junior Division Leader. I got to spend my days with forty-two eleven & twelve-year-olds. I learned just how energetic they can be and how upset they get over someone using their hairbrush. I watched the senior campers finally get that opportunity to try out for war canoe and to become big sisters. I watched teens spend their days wishing they were young again andhoping for time to stop so they could spend more time at camp.  These still are not my favorite things about camp.
These past three months on Head Staff have been an adventure and a roller coaster. My first Field Day was very nerve-wracking but I learned a lot. By Second Term, I realized that at the end of the day, these girls care more about spending times with their friends rather than which tribe ended up winning. I spent my days at the Ark and digging through the garage. I encouraged every child to be active and made it clear that everyone was a winner. I wanted to make sure that even the girls who were the least active still tried their best and walked away feeling more confident. Since Field Sports is a mandatory class for all campers, I knew the names of every girl that stepped foot on the camp. Getting to spend every morning playing games with those girls was the highlight of my summer, but not my favorite thing about camp. At the end of it, there are not many things that I have not done at this camp. I cherish all of my memories from 2003 to today and I could not just pin point just one thing to be my favorite thing about camp.