The time has come and gone, the winds have changed and our final camping experience of the season has officially left the gates of Heart.
Mother-Daughter weekend was one for the books, y'all.
During the weekend we got to introduce new moms and daughters to the special love that Heart possesses! We also heard stories and secrets from former campers about their time and years at the most magical place on earth.
Trust me, we top Disney World.
From Friday evening when the families arrived to Monday afternoon when they embarked on their long journeys home there was never a dull moment! Families experienced games and activities, sliding into the river, and a murder-mystery themed dinner that allowed everyone to dress-up and embrace a new character for an evening.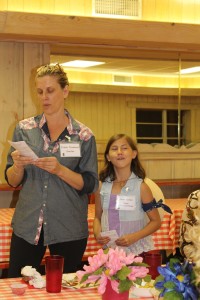 Horseback, rock-climbing, riflery, archery, swimming, pickleball, fishin', and canoeing were all offered activities. Moms got the chance to unwind with a professional massage or also take part in the classes with their daughters to get a feel for the true camp experience.
In the evening we witnessed the excitement of a western murder-mystery themed dinner, walking the plank, a massive lip-sync battle (Meredith Hill please teach me your moves, okay thank you). A 4S Fire− s'mores, songs, stories, and stars – where Jane led camp songs and told a hilarious rendition of 'The Three Little Pigs' that had the girls and moms rolling with laughter helped round out the weekend.
With Mother-Daughter being a smaller event it helped families connect, which is the main idea of the weekend. Moms got to see how their girls experience camp on a daily basis, the classes they take, where they would live, and the staff that they would be surrounded by when summer rolls around. The girls got to see their mom be a kid again. For them to take a moment from the hustle and bustle of their busy schedules and capture  the beauty and serenity that camp provides. For a weekend moms and daughters both got to be kids alongside one another and share in the peacefulness that is Heart.
All-in-all Mother-Daughter weekend was an incredible occasion.
Moms giggling as they did a river-plunge or went head first down the slip-n-slide. Daughters learning the intense game of pickleball from Dick every chance they could. All led to bonding that will last these families a lifetime.
So yes, the winds have changed and the off-season has now "officially" officially started. However, our gates and hearts are always open to those that want to explore the magic that is Heart O' the Hills.
Check out this video that our videographer, Steph Hodgkinson, made of the weekend.
Love,
Fallon <3