There are few things more rewarding than spending a summer as a camp counselor. It is the hardest job you will ever love! As a counselor you are in a very unique position in that you are neither a parent, nor a teacher, but you spend so much time caring for campers and imparting long lasting skills. Essentially, you are the ultimate role model.
Here at The Heart we are incredibly lucky to have a variety of personalities on our summer staff. Young women are hired from all over the world for their glowing exterior and for their abilities to teach specific activities. Our counselors are the key to the success of a camper's summer. It is with their love, guidance, and care that those lifelong memories and love of camp are formed.
Why should I apply for The Heart?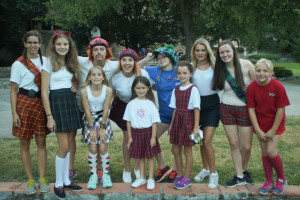 Any summer camp is special in its own right. But here at Heart O' the Hills, campers and counselors alike know all too well that The Heart possesses a magic that is just impossible to find anywhere else. No matter where you are from, as soon as you arrive at The Heart you are welcomed into a sisterhood that has been established since 1953. Campers grow to become counselors themselves and so, for new counselors, this makes the summer experience all the more special, to really learn what it means to be a Heart girl.
Our counselors are authentic role models. They are young women who have a zest for life and appreciate the enriching environment that is camp. Counselors are also adored by campers – camp is probably the only place you will feel like a superstar every single day!
Shouldn't I get an internship?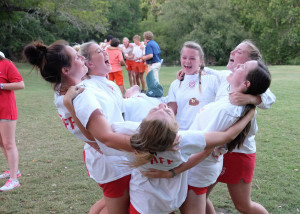 These days many young university students feel the pressure of acquiring internships for summer. However, the skills that counselors develop at camp are becoming increasingly what employers seek. Camp can be an extremely challenging environment and that's not just waking up at 7.30AM every morning and staying bright as a button all the way through to 10PM. Camp gives counselors the chance to be leaders for an entire month; in the responsibilities of leading classes, to maintaining order in a cabin of at least 5 campers, to choosing a tepee night that all campers will enjoy. Camp allows counselors to enhance their problem solving skills at a pretty intense rate; when you have a canoe class of 15 girls and it's pouring down with rain outside you need to think pretty quickly of a Plan B! Camp makes you part of a team right from the get go, counselor orientation is filled with team building activities and throughout the summer, staff always work as one.
Camp strengthens character. Our counselors don't just walk away with a whole new family,they leave camp with a full mind and heart. They may also feel the need for about a months' worth of sleep after camp – hey, no one said this job was easy!
Some words from past counselors:
Working two summers as a counselor at Heart O' the Hills completely changed my life. I could sit here and rave about camp all day long (as I'm sure I already have) but don't just take my word for it, read how The Heart impacts so many counselors:
"Being a Heart counselor means having the best summer of my life. I get to experience such a beautiful environment and try new things alongside the campers. My favorite part is seeing the difference with the midgets as the month goes on – they learn so much so quickly!" – Kaitlin B, counselor 2015 & 2016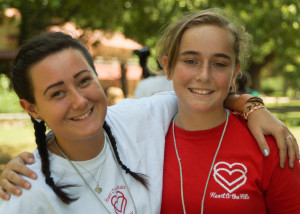 "It might sound cheesy but working at Heart O' the Hills is life changing. It's the only place where I get to spend two months of the year getting to know amazing children and doings loads of fun activities. Camp is the one place where you long to be back as soon as you leave. The bonds you build with campers and counselors are different to any other, they are friendships that will last a lifetime." – Steph H, videographer and counselor 2015 & 2016
"Being a counselor at The Heart means to me being a part of a big family. The Heart makes you feel at home with people from all over the world. It's amazing to see all these kids having fun at such a beautiful place. I love being a counselor at The Heart as it gives me something meaningful to accomplish. I couldn't ask for a better job." – Sina S, counselor 2015 & 2016
Counselors are most definitely the heart strings of camp. Feeling like you want to join The Heart family? Thinking that the summer of a lifetime sounds like something you want to experience yourself?
Follow THIS link to begin your journey at Heart O' the Hills!