Being the daughter of a retired History teacher of 40+ years (way to go, daddy), I have learned hundreds of lessons about my country, other civilizations, and way more about the Civil War than I would prefer (no offense, dad). However, there is one lesson he did not give in any of his classes: Pickleball. This lesson comes from Dick Howell, or as some of you might know him, Heart Mister. He is the true Pickleball teacher here at The Heart and he gave us a lesson we can all learn something from:
Pickleball: a racquet sport that combines elements of badminton, tennis, and table tennis. Two, three, or four players use solid paddles made of wood or composite materials to hit a perforated polymer ball, similar to a wiffle ball, over a net.
Also known as: the sport of Dick Howell.
If you have never played Pickleball, don't worry we'll get you in contact with Dick. He'll show you the ropes and have you winning tournament after tournament like he does, but first let's clue you in on the origin of this interesting little sport:
In the Seattle area, early 1960's as subdivisions were appearing, a couple of neighbors with children decided to try a new game over the backyard badminton net. They used homemade wooden paddles and a wiffle ball. Eventually they would lower the net and move onto the cul-de-sac in front on the house to allow the ball to bounce. Soon they started to lose balls and had no idea where they were disappearing to. One of the neighbors, while clearing the brush behind his house, found a large stash of their wiffle balls carefully stowed away. Since their dog was named Pickle, whenever a ball was missing it became a "Pickle ball".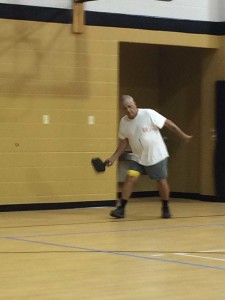 Insert the game: Pickleball and Dick Howell, National Champion.
Oh yeah, did I forget to mention that part? Heart Mister himself is in fact a National Champion.
Anyway, after experiencing a tremendous growth in the past 8-10 years, it has become America's fastest growing sport. Had the families had any idea that the game would transform from a backyard game to an intense sport around the world, they said they would have given it another name.
Luckily they didn't because we love the game and our professional coach is one in million. <3
Love,
Fallon