Heart families have a special invitation to Camp Stewart's Family Camp, with Specialty Clinic options in horseback, soccer and culinary arts March 31-April 2, 2017.
Jeeper Ragsdale, Stewart director/owner, said camp families continually request a weekend geared towards the entire family being able to enjoy camp, while others wanted another Specialty Clinic weekend such as the one offered in November, so he plans to incorporate both in the spring event.
Families may sign up for Family Camp ($400 per person; $300 for children under 11) plus horseback, soccer or a cooking Specialty Clinics add $250 for horseback; $125 for soccer or cooking. Specialty Clinics should be indicated at the time of registration.
To register: call Camp Stewart (830/238-4670) or email meredith@campstewart.com.
Discounts: Families of three or more receive a 10% discount and those registering before March 1, 2017, receive an additional 10% off.
Arrival will be before dinner Friday (7 p.m.) with clinics/activities ending at noon on Sunday. Chef Doan promises more spectacular gourmet meals with wine pairings for the Saturday night meal. Sunday lunch will be casual 'pot luck' as families prepare to get on the road home.
Housing will be assigned as registrations are received on a first-come, first-served basis in guest housing and cabins.
Family Camp activities will be led by associate directors George Morgan and Mike Busby and senior camp director Cody Weiss. There will be a choice of activities at designated times throughout the two days as well as 'family time' being carved out for those who want to take a family hike, play a set of tennis, etc.  Family campers' activities will include but not be limited to archery, riflery, climbing wall, escorted hikes, fishing and canoeing.
George is planning a contest based on how many activity points each family accumulates. Parents are 'cabin leaders' for their children: Stewart staff are activity leaders.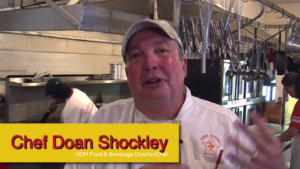 Cooking with Doan is a new addition to the Specialty Clinics:  Chef Doan (Shockley, head chef for both Heart and Stewart), a former instructor for the Hilton Hotel and Culinary School at University of Houston, said cooking classes will be centered around the selected seasonal menu and will offer a variety of techniques. "We'll just have lots of fun in the kitchen," he said. Easy pressure cooker recipes are mouth-watering.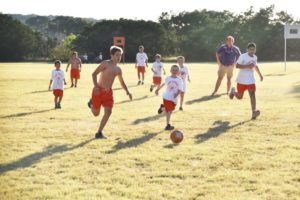 If Quidditch has piqued your interest, Conor (Murray, Stewart program director and Scottish national soccer champion) says that the soccer portion will include some basic Quidditch instruction and introduction to keep things interesting, as well as lots of tips to improve your soccer game. (Soccer is for ages five and up.)
Jeeper says the horseback clinic will again fit the desires of the group, with each one getting individualized instruction. One fall participant said getting to try his hand at playing polo was an unexpected treat. The horseback instructors all have national and international championships behind them.
And if you want a Heart testimonial: "I loved the horseback weekend! It was very fun for me and my Dad. Thank you for planning it and letting me go. I saw the birds and loved them. I got to go inside the cage and pet some of the birds. I loved it! I loved seeing and riding the horses and I went on a trail ride up the bluff and I really had a great time. I also loved the food; my favorite was the fried quail. Thanks: Sterling M (Sophomore Shawnee Chief, 2016-2).
Family Camp or a Specialty Clinic makes a great Christmas or Birthday gift for a camper!