Another great Mother-Daughter Weekend  for spring 2017 is planned for May 4th – 7th, where already a record number of attendees will share a great time at Heart O' the Hills Camp. Many people come to the weekend to get an up-close look at The Heart before enrolling. Others come to share the excitement of camp together with their campers. It's open to everyone! Come stay with us, tour our facility, and partake in the activities your daughter will be doing while a camper here.
Mother-Daughter Weekend is for mothers, stepmothers, grandmothers or aunts and their young counterparts, ages 4-99, to spend some quality time together! During the day, activities include swimming, archery, riflery, rock climbing, horseback riding, pickleball, arts and crafts, puzzles, games and relaxing. Evenings are spent with storytelling and s'mores around our campfire with Director-Owner Jane Ragsdale. The best part is you can do as little or as much as you'd like. We create a schedule that is up to your choosing on participation.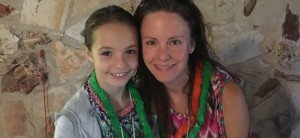 Moms sleep in a private room and campers are assigned a nearby room with other girls in their same age range. A counselor is also assigned to each camper cabin. All rooms are air-conditioned and have private baths.
Just as we do at camp, we gather in the Dining Hall three times a day and eat together. After lunch and supper, we sing camp songs and make announcements about the next round of activities. It's a special time to interact with others.
Some of our summer staff come in just so you can get to know them and hear their camp stories. Be sure to take advantage of the time shared with them to ask any questions you might have.
Check out this great video filmed at our Mother-Daughter Weekend in September, for a glance at the fun that is in store for you!
If you would like more information about Mother-Daughter Weekend, please check out our website here.
If you are interested in signing up for this year's event, please sign up here.
<3,
Monique