After 665 days, I'm happy to announce that I'm back at Heart O' the Hills Summer Camp for Girls and reunited with the best campers and counselors in the world. My journey back to camp was definitely a memorable one. Jane greeted me at the airport with a sign that I made during my second visit to camp. Driving through the Hill Country allowed me to reminiscence on my previous years as the office intern.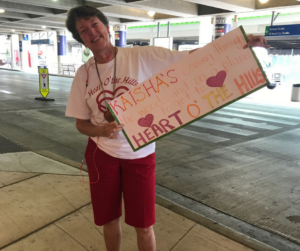 When Jane and I arrived to camp I immediately felt a rush of excitement.  Jane couldn't stop the car fast enough so that I could run down the driveway like campers on opening day. Within minutes I was standing next to Kitty's Korner when campers and counselors approached me with hugs and kind words. The love, happiness and joy that I felt at that moment was better than eating ice cream on a hot day (with the exception of eating Ice Cream at Jane's house).
I know the question you are wondering, why did I decide to come back to camp after 1 Year, 9 Months, 3 Weeks, 5 Days and 1 Hour? The answer is simple. I love HOH! Camp allows me to not only work on being a better person but also provides transferable skills that I can utilize in my career. This summer will be filled with reviewing, evaluating and updating HOH current marketing plan. The plan will focus on increasing enrollment and aid in the retention of campers year to year. This task will include me working with the website, social media and email marketing campaigns through out the year.
I'm so happy that life has lead me back to Heart O' the Hills Summer Camp for Girls. The welcome that I received from everyone was remarkable. It showed that heart friends never lose love and absence makes the love grow more. This place is truly special, and I look forward to keeping you all informed about the wonderful world of camp.