There are many transitions a person may experience in their life: going from a camper to a counselor, being able to drive a car, and the most prominent one, starting college. Each of these new chapters in ones lives pos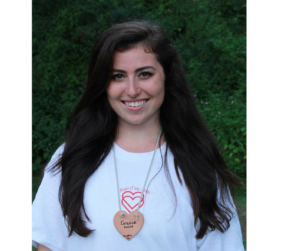 es new obstacles.
As an 11 year camper at Heart O' the Hills and a sophomore in college, I can confidently say that camp has prepared me for life. There are numerous traits that The Heart has given me that aids in my transition from high school to college.
The idea of living with a roommate in college was not daunting to me. At The Heart,  I've spent numerous months living with girls that are different than I am. My experience as a camper also has taught me how to solve problems efficiently and effectively based off the differing wants and needs of my cabin mates.
The Heart has also instilled being timely into me. Activities at the Heart run on a schedule. Even though there are counselors in charge of helping you get from point A to B, there are aspects of camp that force you to uphold certain responsibilities. I am proud to say (or type) that I have never missed a college class and I'm always on time. (okay, mom, maybe once, but that was because I had strep).
Above all, being a camper has taught me compassion.
Compassion for those who are struggling, such as a homesick camper or someone having a hard time acclimating to camp. I also learned how to have compassion for those who are different than I am. By nature, I am a very outgoing person.  As a child, I was bewildered by the idea that it may be scary for others to start a conversation or to make a new friend.  Camp has taught me to have empathy for people that are reserved and trained me to include everyone in activities.
Finally, I learned how to encompass compassion for people who are scared to step outside of their comfort zone. Camp can be intimidating and frightening to people who have never experienced something of this caliber. The shift from being a camper to a counselor was almost as unnerving as the shift from being a high school senior to a college freshman. Life is built upon risks. I thank camp every day for adequately preparing me for difficulties sent my way. At the end of the day, a life without risks truly isn't a life at all.
Thank you ,Heart O' the Hills, for preparing me for my transition from CAMP to CAMPus.
– Grace A.