Moms.
The ones who are right about… well… everything.
They push us to our limits and tell us that we can do whatever we set our minds to.
They allow us try different things.
They support us when we fail and help us know that each disappointment is a learning curve.
They embrace our successes and always have our best intentions at hand.
They send us to overnight camp.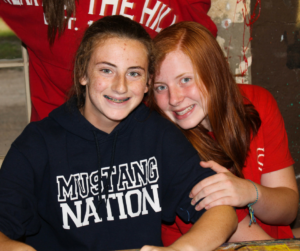 Why do they ship us off for two weeks or a month at time? They want us to learn new things and explore the outdoors. To meet people from all over the world and even someone who might live down your street or go to your school. They want you to grow both individually and as a team player.  They want you to experience things that they never got to or simply fall in love with camp the same way they did when they were your age. (Yes, believe it or not, mom was your age once).
It's safe to say that all moms are pretty intelligent women. They know what they are talking about when it comes to all things in the universe, but camp is what they are experts on.
They knew you would love the sisterhood and love that sweeps through the Hill Country air. They understood that you would be nervous being away from home, so that's why they pre-mailed a letter for each day you would be away. They figured out that you would fall in love with the blob and the tingle of the Guadalupe River.
They knew all of these things and so much more.
So, when you go to question just why mom sent you to an overnight camp, remember it's because she loves you and wants to experience days full of sun and laughter.
Besides, mom is right. Always has been, always will be. ❤
Lots of love,
Fal ❤