There are quite a few reasons why you should send your child to camp. The great friends and the trying of new foods and activities are all part of what makes camp wonderful–but there's so much more!
Let's take a look at the top 5 reasons you should send you precious babies off to summer camp:
5) Finding a new routine
Every day kids are doing the same routine things. They go to school, go to practice or a friend's house, come home, play something on their iPad, game boy, or cell phone, then hit the hay to end another day.
Routine is nice and stable, but it doesn't do much for educating your child. When you send them to the world of summer camp, they are surrounded by so many different things. All of their senses are engaged and instead of sending a text to let someone know how they feel, they use face-to-face communication to relay important messages.
4) Independence/Growth
Nothing can help a child learn more about themselves than going out and doing things on their own.
They don't have mom and dad with them making sure they are getting to where they need to be, they are taking on new moments, friends, ideas, and surroundings all on their own.
In a secure environment, they are learning how to cope with different cultures, new friendships, and an unfamiliar territory. Your child will come back from camp a completely different person than the one you dropped off on Opening Day. They will have learned a little more of who they are and who they want to become.
3) Friendships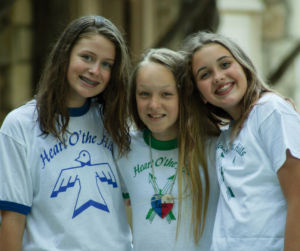 Where else could your child have a counselor from Scotland or friends from Mexico, France, China, Spain, South Africa, New Zealand, England, (etc.) or any state in the U.S.A.? Where else could your child form bonds that are impossible to break?
At camp the relationships that are cultivated between campers is magical. They live together, they eat together, and they play mat ball or sit at pottery together. They are attached at the hip and every step of the way they are learning new things about the other young people they are surrounded by.
They come to understand that they aren't the only 13-year-old that struggles with acne or braces. They get to see that just like them, their friends also have the same challenges, and they help one another in those times and celebrate in their successes. And then they build those bonds every year when they run toward each other on Opening Day signaling that they are back where they belong–with their best friends.
2) Communication
Are you tired of trying to talk to your child and all you get is an emoji as a response? Well, at summer camp phones and technology aren't a thing. We want to work on face-to-face communication instead of hiding behind cell phones and Snapchat.
When at camp problems are confronted, tears are shed, laughter is spread, and the chit-chat of girls is heard throughout camp after Taps has blown. Not having technology to hide behind causes your child to get out of their comfort zone and open up to new people, places, ideas and opinions.
They get a chance to form their own opinions and vent frustrations that they might have or simply just let someone know how much they appreciate their friendship. There comes a point where they aren't even worried about their phone or Instagram account, because they've made friendships based on true values and communication. And that's something that an emoji could never compete with.
1) Home
Now you're probably trying to figure out where I'm going with this, just stick with me. When someone finds a place where they can be their true self, have no worries in the world, are constantly connected with their best friends, and are continuously out learning new things about themselves and the world around them…they've found a home.
Summer camp is such an escape from the hustle and bustle of the "outside world" that it is a place to be free. Camp is a warm and loving atmosphere and it becomes ingrained in who a person can be.
It allows a person to grow in ways nothing else can, it allows love to cultivate its way into their life, and every time those gates open it's like coming home.
Lots of love,
Fal ❤