One of the nicest and most unusual things about being in the camp industry in Texas is the camaraderie of our camps with one another.
One reason is that what's good for one camp is good for all camps. A child has the time of her life and makes her best memories ever at camp, and tells about it, and her friends and neighbors and cousins from another state all start itching to have the same. Maybe at the same camp, or maybe at another.
By the same token, if a tragedy occurs at one camp, then all camps are viewed through the lens of dangerous.
Not to mention the fact that people tend to get us all mixed up, forgetting which camp that third grade classmate attended!
So it's no surprise that we Texas camps gather formally twice a year to exchange ideas and tell the tales of wonder and woe of each new summer. Our association is called the Camping Association for Mutual Progress, or CAMP.
Monique is one of the hard-working officers, a position that rotates among the members.
This year's president, Dan Neal, hosted the fall meeting at his day camp in Round Rock, called Double Creek.
Monique, Katie and I drove over early for a meeting of the legislative members. CAMP has a wonderful lobbyist, Courtney R. Hoffman, who keeps an eye on things at the Capitol that camps might need to know about.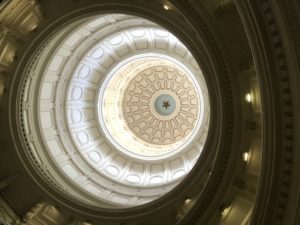 The most recent concern is the wide range of school start and finish dates. When some schools start early in August and others start late, and then they finish anywhere from third week of May to second week of June, it makes it really tricky to find a window of time in there where a majority of kids get summer vacation.
We enjoyed about a decade of uniform school start dates, which translated into roughly uniform ending dates, and we could reliably predict the times when staff training could start and camp had to let out. But many school districts chaffed under the rigidity of that "fourth Monday in August" time. Their loophole for starting and ending as they pleased is the newly designated "Districts of Innovation". Who wouldn't want to claim to be one of those! And one of the rights of a DOI is fixing dates whenever they please.
It really is a concern for us.
Please stand by for more as things in Austin heat up later!
We really do believe in the lifetime values of camp, and what a great enhancement it is to the education and training of a child for a full life of service and value. All of our associations and friendships just help us become stronger!