Having a child develop a passion early in life is a blessing, I often tell parents. Jeeper Ragsdale developed his passion for horses at a very young age!
Note: There is no better place to develop a passion than camp, because of the exposure to a wider range of activities than most have at home or school.
Jeeper, the Camp Stewart Director and our youngest child, has had a passion for horses and riding from infancy, but camp enhanced it. 
From the cradle…
While now it would be unthinkable, when he came home from the hospital my Daddy held him on the back of a pony, leading him around in front of the house, swaddled in baby blankets. My college age sister, tasked with watching him while I had a doctor's appointment, took him horseback riding before two weeks of age. "It was the only way I could go ride" she explained when I had a minor melt-down on returning to an empty cradle.
Before Jeeper could talk he was pointing to horses and begging to ride.
…to camp…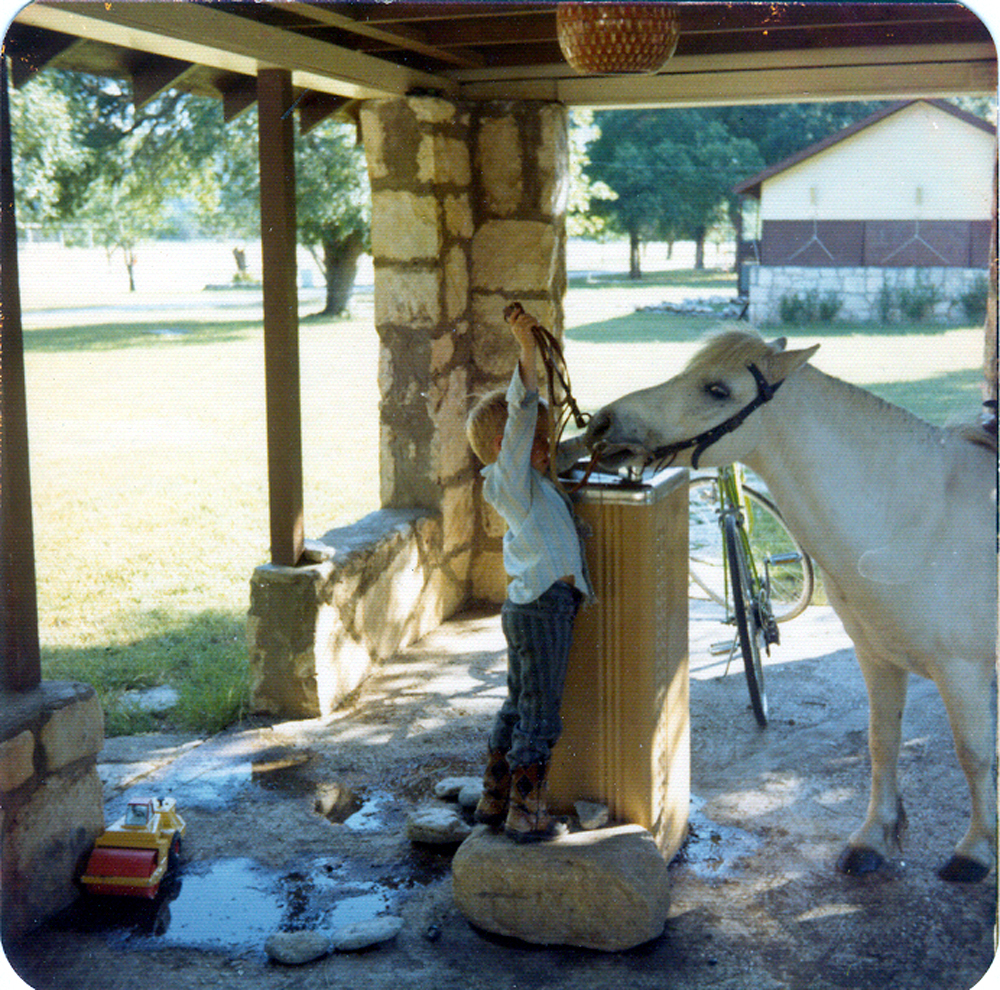 At camp, he wanted to spend all his time at horseback, although until he was an Eagle at Camp Stewart, he had to follow the schedule! He loved Eagle's choice – signed up for horseback every period. (I suggested he should be doing more activities. I still remember the look he gave me as he said "But, Mom, I thought it was Eagle's choice and my choice is horseback.")
That was the age he went to San Antonio Academy as a boarding student. After the first year, he said he'd return if he could take a horse.
…the passion grew
Si used to say the Normandy Invasion took less planning than arranging to find a stable and trainer; arrange for riding lessons, work out times with both school and stable AND find someone to take and deliver him during the week, but it worked. We knew he did not like school but he loved the challenge of horses.
We were incredibly lucky. A camper dad told us of Russell Equestrian, headed by Col John W Russell, a former Olympian and career Army man who headed the US Modern Pentathlon many years. Col. Russell became a great mentor for Jeeper as well as a valued family friend.
Jeeper's passion for horses has not abated through the decades, although it has taken twists and turns. Teaching others more than competing these days, he rides almost daily, striving to improve his skills.
Toward the Olympics!
Last week he was in Budapest, Hungry, coaching the US Pentathlon Equestrian Team as they participate in the World Championships and prepare for the 2020 Olympics.
 How did he get there?
After a few years of watching Jeeper teach and coach Stewart and Heart O'the Hills campers in various horseback activities, Rob Stull, managing director of the USA Pentathlon, Stewart consultant and former staff member, asked Jeeper to coach the USA team. "We need you," he succinctly said. (Rob was a medal winter in 1984 Olympics. He is one of few athletes to compete in two Olympic events. He competed as an epee fencer and pentathlete in three Olympics. Rob is active in the Olympic movement worldwide and the summer he taught fencing at Stewart he inspired many a young 'sword fighter.')
Jeeper told Rob that Camp Stewart and Heart O' the Hills came first, but he'd be glad to help anyway he could: hence Rio, Budapest and in two years, Tokyo.
As I reflect on all the many adventures his passion for horses has provided him – international show jumping to bareback bronc riding in Mexico; foxhunting in Europe to polocrosse competition across the southwest; polo playing in the Hill Country to coaching at the Olympic level – I wish the same opportunity for each child, whether it is horses, music, rowing, tennis, sailing, swimming, archery, skeet, riflery, etc.  There must be a passion for every child, if they are only provided the opportunity to find it and develop it.
Passions do not come cheap
Passions often do not come cheap: I once told our bank president "I don't think Si & I can afford this" and he said "Kathy, you cannot afford NOT to do it. You have a good boy – take out a loan if you have to, but keep him riding and training."
Camp is a great place to find those passions!
To say I'm a proud mom would be an understatement!
Kathy Ragsdale, Stewart Matriarch
P.S. My passion is organized, traditional camp and its benefits to campers and counselors!
Editor's note: Jeepers heads up the horseback programs for both Camp Stewart for Boys and Heart O' the Hills Camp for Girls. When Heart campers take advanced English jumping, Jeepers is their coach.