The Sixteen-Year-Old Blues
If I could go back in time and tell myself 16-year-old self one thing, it would be that I don't have to stop coming to camp. I remember being so distraught that last camper summer. I thought "this is it." I felt like camp had given me all it could and now it was over. And although my relationship at HOH has changed, I truly enjoy being on staff more than I loved being a camper.
Most campers come back the summer before their senior year as Heart-LITes. At camp it's universally understood that this is a hard position. You're there as a volunteer and you wake up earlier and stay up later than anyone else on camp. But you're on staff. You usually get to live with your cabinmates, with no counselor, and you get off time.
That first summer on staff I came back for the usual reasons. I wanted to give back to the camp that had given me so much. And I wanted to be with my friends.
Those reasons are solid ones, and still part of why I keep coming back to camp. But that summer I discovered the true magic of being a counselor.
Impossible to be Bored
First of all, being on summer staff guarantees a summer free from boredom. The first year I was a counselor, I had so much to learn. I felt like I spent a lot of the term catching up. But once I got familiar with my responsibilities and routine, it got a little easier.
But even the seasoned counselor knows that every day brings a new challenge. My first year I taught all sorts of activities. From yoga to tennis (which I had no clue about). I learned how to roll with the punches and think on my feet. If it seemed like everyone was bored with friendship bracelets in Just For Fun, then why don't we run through the sprinklers? There is never a dull moment when you're trying to entertain yourself and 10 other kids.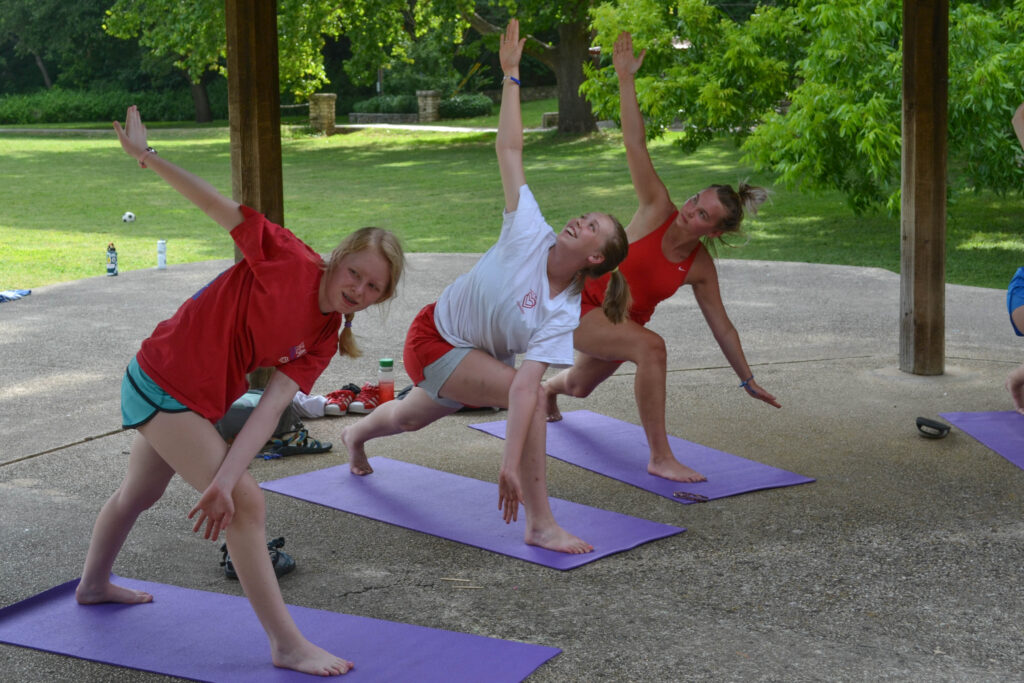 Think Fast
Flexibility is the name of the game. Planning has its place. But, just one little thing could go wrong. So, overcoming new obstacles is what makes a great counselor. For example, on Senior overnight one summer, everything was going swimmingly—literally—the kids went swimming while some of us started dinner. The s'more skits were actually pretty funny. We had finally settled everyone down enough to get in bed. Right as we were taking in the stars, it happened. A distant rumble and lightning strike.
After a short council of "should we or shouldn't we," we begrudgingly rallied the kids and told them to pack up quick. We couldn't stay out in case the storm got closer. So, with limited flashlights we navigated our way back across the river and to the safety of The Village. In the moment, it felt like the perfect overnight was ruined. Later, at about 2 a.m., I was proud of our decision as I listened to the heavy downpour and cracks of thunder engulf the building.
That night illustrated just one of many ways camp keeps you on your toes. And as a counselor, you learn even more about leadership. Staying calm was key to our success that night. I still remember the slight panic when I realized, we were the adults here! Although the alarming thoughts don't cease, learning ways to deal with conflict and stay cool under pressure starts to become second nature. Then the initial panic gets drowned out by those rational thoughts.
You Reap What You Sow
Camp is by far the most rewarding job I've ever had. One year when I was on the war canoe team, we were gifted frames. Inside there was a piece of paper with "War Canoe Rules." There was a list of about 15 "rules" that I still look at every day. My favorite is about perseverance. It talks about leaving it all in the boat. Meaning, give nothing but all of yourself. That sentiment definitely carries to being a counselor. At the end of the day, no matter how tired I might be, the last thing I want to be thinking is, "Could I have done more?"
Counselors have to manage, not only themselves, but also a dozen other children. You're around these kids all day and night. You eat with them, you play with them. If you give up on them, they see it. Learning how to put on a brave face and push on, builds your character. But it also makes your hard work more than worth it. The love you give to your kids, they'll give right back to you, tenfold.
You Grow, They Grow
I adore watching campers grow up. Summer to summer, you get to be a part of raising a kid and watching them grow. I've seen it in my own cabins, who are now in their final camper years, and even in my own sister. Camp is so special because it's a snapshot into everyone's lives. For four weeks, these otherwise strangers come together to laugh, sing, cry, and cheer. You learn skills together, you bandage wounds, you talk to the quiet kid, you stand on the outside of the circle. But you leave feeling even closer to camp than before. That's why I come back.
If you're looking to come back this summer click here and scroll to the bottom to apply for the best summer of your life!
If you're interested in more reasons why working at camp is so great, check out Kimber's blog on the skills you learn as a LITe. The American Camp Association shares some great blogs about why you should work at summer camp. You can also get a discount on your Chacos if you work at The Heart through the American Camp Association. The blessings are quite bountiful.