In the "off-season" when I am not working at camp, I am a teacher. A few years ago I was having lunch with a group of sixth-grade girls who were talking and moaning about friends and boys when I ended up having a deep conversation with them, the point of which ended up being, you are strong powerful young women, your worth shouldn't depend on other people, boys or girls.
I preached that to those girls for the rest of that year.  The following summer I continued that conversation with multiple groups of girls that I talked to at camp. Louann Nadalini then really amped it up by announcing to the entire dining hall that they were strong, powerful women who should go beat the boys at the Stewart Meets later that day. 
Although it started out as something rather lighthearted and funny, the heart of the message is serious.  It is also one of the reasons I love Heart O' the Hills Camp and believe that it plays an important role for young women of today.  It is one of the few places where girls can be and are even encouraged and emboldened to be truly strong and powerful women. 
Inspiring Strong and Powerful Girls
At The Heart, girls have an opportunity to try new things, be athletic, and competitive, and to be their real true self without the added drama of boys being around. 
One of the qualities that I think makes a strong, powerful woman is the ability to lift up other women. At camp, there are so many opportunities to do this.  The Big Sisters lift the Little Sisters, and I am always recruiting the help of older girls to lend a hand with those who are homesick or who just need a little love and attention. Sportsmanship and friendship are constantly celebrated and encouraged and allow many moments for lifting another in spirits or congratulations. After officer elections or war canoe tryouts there are always those who didn't make their office who are downhearted and discouraged, yet we have those who will encourage and uplift them to the point that you don't even know who the winners or losers are. 
What defines Strong and Powerful Girls?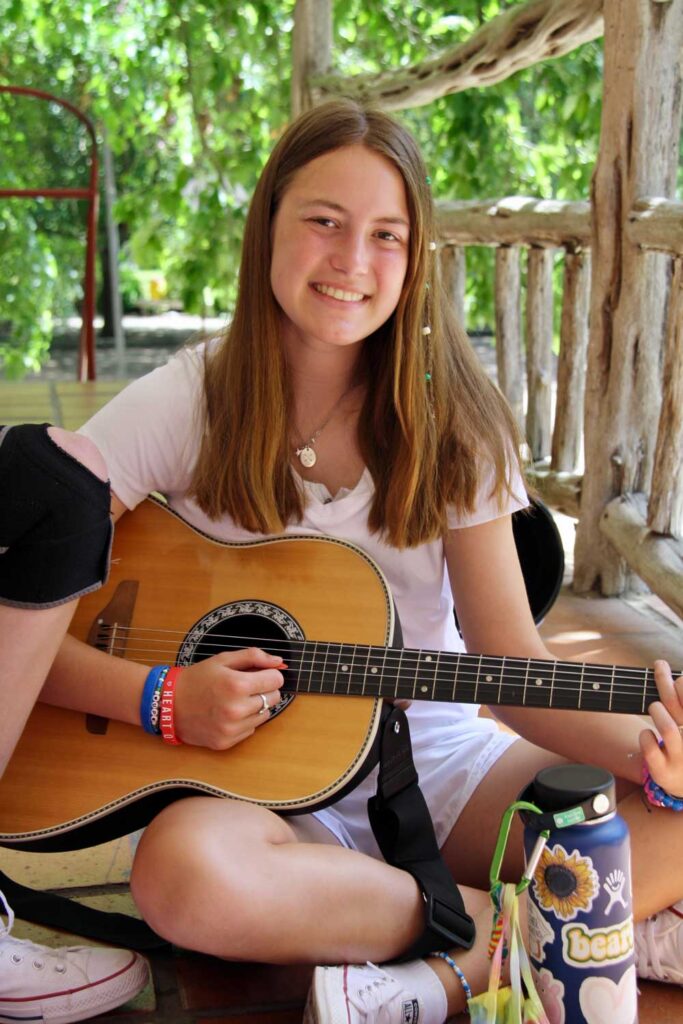 A strong powerful woman is constantly looking to improve or better herself in some way. We uphold certain ideals at The Heart. The Eight Traits, are wonderful qualities to aspire to have (Courage, Unselfishness, Trust, Faith, Goodness, Truthfulness, Purity, Honesty). Although no one could really embody the Eight Traits all of the time, it is something to work towards and to try to become. In addition, though they are not part of the Eight Traits, we also encourage other traits. We encourage sportsmanship, work ethic, being a good friend, and being your best self. There are a million little ways that girls can strive to be better, do better, and improve. They can do this and feel good about themselves all along the way.
One of my favorite times at camp is when I see little girls or young women sweaty and dirty and working their heart out at something. Whether it be playing dodgeball, painting a sign, making a clay pot, riding a horse, helping a friend, etc. When they are working or playing with their whole heart and at the end of the day, feel good about what they have done and who they are, that is a strong, powerful woman moment, and it is why Heart O' the Hills is the perfect place to raise them up.
–Cristi Lee
Editor's Note: Cristi Lee Ahern is The Heart's assistant director every summer. She grew up in Wyoming, and began coming to The Heart as a counselor in 1994, and has only missed one summer since (her newlywed year). Cristi holds two bachelor's degrees from University of Wyoming, and a master's in special education from Northern Colorado University. She worked with children in residential treatment centers before becoming a teacher at Kerrville's sixth grade school. She is now Vice Principal at St. Mary's School in Fredericksburg. She lives in Kerrville, Texas, with husband Rick and their children (Stewart and Heart campers).