Maddie Rea is a three year staff member and lover of Heart O' the Hills! She has wrangled kids with joy and creativity. Here's what she has to say about why The Heart is the right job for you!
Working at The Heart is different than any job you will ever have. It is one of the hardest jobs you will ever take on, but it is also the most rewarding jobs ever. Getting to see the smiles on your kids' faces at the end of a long day makes it all worthwhile. So here are 10 reasons why you should work at The Heart:
1. People from all over
People come to camp from all over the world. When working at camp, we meet people from Mexico, New Zealand, all over the UK, and all over the states. The campers also come from all over the US, Mexico, and other countries around the world. Last summer, I had a cabin with a couple girls from Mexico. It was the most interesting experience as they taught me Spanish and other cool things about Mexican culture. Getting to meet these people showcases just how special The Heart is because people are drawn to it from all over the world.
2. 3 months in the beautiful Hill Country
The Hill Country is like no other. It is absolutely beautiful with all the colors of the trees and the beautiful Guadalupe. The months spent in the Hill Country are some of the most enriching months as you learn more about the environment and more about yourself. Sometimes during breaks, I will just sit in the Guadalupe and admire its beauty because it is something that is constantly relaxing and soothing for the soul. The beautiful scenery of The Heart is like no other, especially when you get to climb up the giant hills.
3. We keep it casual
Unlike a boring office job where the dress code involves pants, at The Heart, all you have to do is roll out of bed and put on your counselor uniform. The same comfy, soon-to-be-stained white shirt and red shorts you wear every day that truly become habit. These clothes turn into your comfort clothes Once you leave camp, you'll be left lamenting having to put on real clothes again.
4. Camp songs
Camp songs are truly good for the soul. They lift your spirits, and you get to be silly without anyone caring what your singing sounds like. At camp, you can be the worst singer, and nobody cares what you sound like. The Heart has some really special songs that may cause you to cry on a Sunday or laugh on a Monday.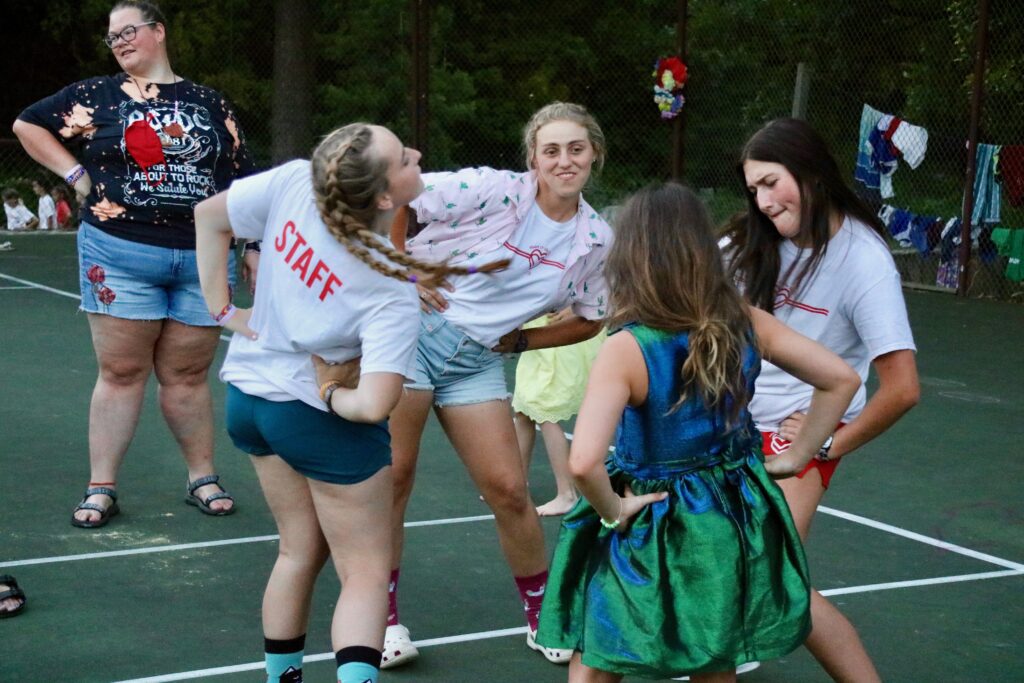 5. Resume boost
Camp is about having fun, but it also teaches you so many life lessons. These lessons can be carried over to the real world. Things such as responsibility, lesson planning, flexibility, and other important tasks will make you even more hirable than any other job out there. Actually, the skills you learn at camp are some of the hottest intangibles on the market!
6. You are a role model
At The Heart tons of kids see me as a role model, and the same will happen to you as a counselor. Think about when you were younger and how much you wanted to be like an older figure—whether it was a sister, role model, teacher, or anyone who you thought was the best person on earth. That is exactly what you will be like to all the kids. They are going to want to be just like you. This is an important part of being a counselor because every kid needs someone to look up to and as a counselor you are their role model, their parental figure, and in general just someone to look up to.
7. Unplug
People are on their phones 24/7, but at camp there is no such thing. Counselors do get some time on their phones, but I find it just enough to check in on the people back home then go back into the world of camp. Camp is its own bubble so phones should only be used at certain times and the greatest parts of camp are when you are just having undistracted fun with the campers.
8. Camp friends are the best friends
The Heart brings so many different people together and through the last two years, I have made some awesome friends thanks to The Heart. In my first year, my absolute best friend was in the cabin right next door which meant we had so much fun the whole time we were taking care of our kids. We got to always help each other out and we still stay in touch to this day. My second year, I made a ton of good friends and even was able to hang out with them outside of camp which made life feel like you are constantly at camp, which is the best feeling.
9. Try new things
The best part about camp is getting to try new things. For my first year, it was climbing. Never did I ever image that I would fall in love with the climbing wall and have so much fun doing it. For my second year, it was riflery. Never in my life had I ever shot a gun, but I got to try it at camp and absolutely fell in love with teaching kids how to do it and getting to see the smiles on their faces when they got a shot on target.
10. You get paid to have fun!
The Heart is not only fun for the campers, but also for the counselors. Whether it is singing at a meal or going down the water slide to show the kids how fun it is when they are scared, you get amazing experiences too. Camp is a place where you can try new things and get new qualifications that give you experiences that last a lifetime. When you get to belay the first kid up the climbing wall, you will understand how important these experiences are or when you teach a kid how to shoot a rifle the first time and they hit the target, you will see how rewarding it is to have an impact on these kids lives.