Trying new things can be scary for everyone.  Oh, but the sense of accomplishment when you learn a different skill!
Coming to camp for the first time is no different.  But there are lots of things you can do before arrival to ease the transition.  Come visit!  We love to give tours to familiarize folks with our facilities.  In late April we hold a Mother/Daughter weekend where you get to do a "trial run" of camp life.
At home, work on skills to become self-sufficient.  Enjoy sleepovers with friends, make a list of things you might need to know (how to share a bathroom, being quiet while others are sleeping, how to ask for help if you have a problem),and then maybe think about how you would handle a stressful situation (having an argument with a bunkmate).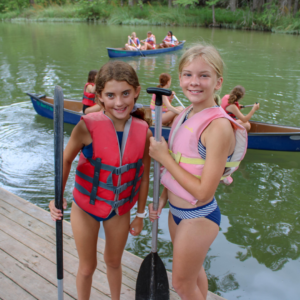 On the first night of camp, all new campers will become a member of either the sisterhood of Crossed Arrows or Thunderbirds.  It's a lifetime association which will shape many of your camp days.
Then there are traditions to learn: singing in the dining hall, having ice cream on Jane's porch, becoming a big or little sis within your sisterhood.  Plus attending your activities each day will always bring different and exciting challenges.
One of the great gifts of attending camp is making new friends.  Whether you design a t for someone or walk with a buddy to pick up the mail, you have opportunities to meet people different from you and create lifelong relationships.
No one likes "being new".  But if you approach it as a great way to learn about something you are unfamiliar with, you will feel a great sense of achievement when you are the one showing a new camper around!
Cindy Janke–