---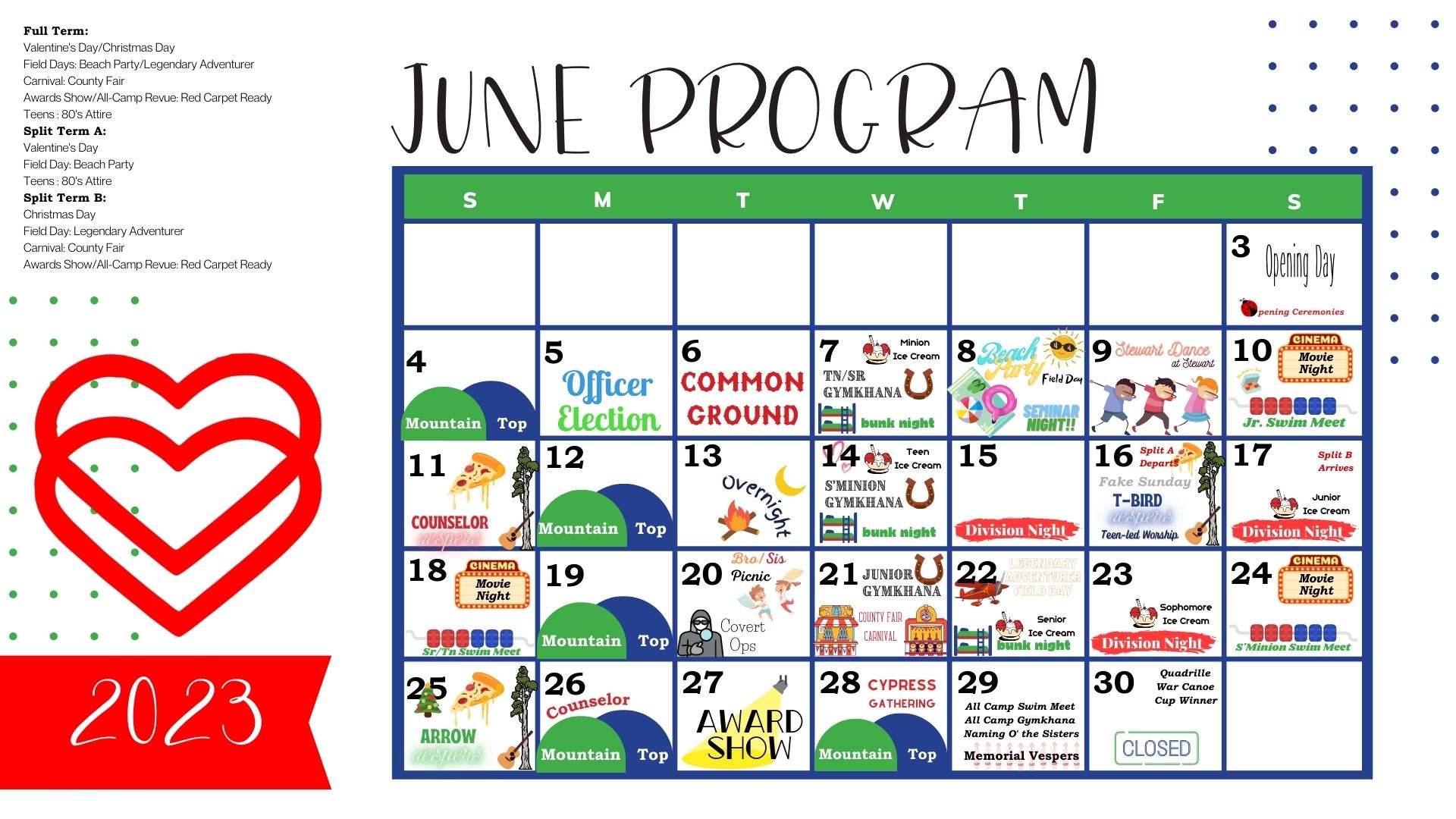 ---
June 4, 2023 - Fire Lighter Elections
---
Sunday, June 4, 2023
What an extraordinary start to our first term of camp!

Despite it being Sunday beyond our gates, at The Heart, it felt like a vibrant "Tuesday." We wasted no time in starting our regular activities and girls went through their TTS schedule, ensuring that tomorrow we can seamlessly transition into a normal MWF routine. The morning witnessed campers joyfully riding horses at the stables, while art classes delved into their first projects. The tantalizing aroma wafting from the cooking class, where they were concocting a delectable pasta dish, filled our office with a mouthwatering smell.

We are thrilled to celebrate the early accomplishments of our campers in their chosen activities! Olivia R and Jenna A have already achieved new riflery ranks. Holly W and Kate R received new achievements in archery.
Today, the Sisterhoods met for: the election of their Fire Lighters, the most esteemed position. Amongst the candidates, there were five aspiring Crossed Arrows and four Thunderbird nominees. The Thunderbirds had to conduct a runoff election involving two candidates. The outcome of these elections were announced during the highly anticipated Mountain Top meetings held this evening. It brings us great pleasure to introduce our new Fire Lighters for the First Term of 2023: Sofia R, who will lead the Thunderbirds, and Addie R, who will guide the Crossed Arrows. We have no doubt that these remarkable individuals will excel in their roles as leaders of their respective Sisterhoods.
---
---
Hello back home!

With camp in full swing, we want to make sure you don't miss a minute of the action!

If you are reading this, then I would bet you have found the Daily Updates from Jane, our daily photos and where to send your camper emails.

This year we have five wonderful people on our media team! These girls not only work on the media staff, but are serving as counselors in cabins with your campers! They work very hard to make sure to get you the best insight into camp each day!
Our goal is to have yesterday's news and photos up by 10:00 AM each day. However, sometimes our internet isn't always as cooperative as we would hope (like this morning), so please understand that they may be a tad late some days.
Another great way to view photos, news, etc. is the new Campanion app. I know quite a few of you have already downloaded the app and submitted your "training photos" for the facial recognition software. But for those of you that haven't, you are not going to want to wait any longer. Download the app, and experience summer camp updates like never before.

We hope you are enjoying the ease of access for photos, emails, and microposts through Campanion!
As always, please let us know if you have any issues with CampInTouch, Companion, or any concerns at all while your camper is at The Heart.
Breakfast:

Orange Juice, Coffee, milk
Cold Cereal
Hot oatmeal w/trimmings
Scrambled Eggs
Bacon
Blueberry Muffins
Lunch

Fried Chicken/Chicken Nuggets
Cream Gravy
Mashed Potatoes
English Peas
Buttered Corn
Homemade Rolls
Iced Tea, Water Ice Cream
Dinner:

Chicken & Dumplings
Steamed Rice broccoli Spears
Maple Roasted Sweet Potatoes
Homemade Rolls
Iced Tea, Water
"You are the one that possesses the keys to your being. You carry the passport to your own happiness."
---
June 3, 2023 - Opening Day of First Term
---
Saturday, June 3, 2023
Opening Day was a resounding success, exceeding all of our expectations. The campers arrived, creating a steady stream of cars with only a handful needing to make a quick return trip to drop off forgotten items. Even with a slight delay, the buses arrived promptly at 2pm as scheduled, ensuring a seamless start to the camp experience.

As the campers settled into their cabins upon arrival, they wasted no time immersing themselves in the camp activities. The transition was so smooth that we suddenly found ourselves ready to gather in the Village for an all-camp welcome meeting. This lively gathering featured introductions, entertaining class skits, and detailed instructions to kickstart the day's events.

Following the meeting, we started on the exciting task of selecting classes and conducting swim evaluations.

For supper, we upheld the cherished tradition of serving pasta with meat sauce, followed by mouthwatering cookies for dessert. Some may have questioned the choice of spaghetti on the first night, considering the white attire worn for the Opening Ceremonies. However, there is a purpose behind this seemingly unconventional decision. Spaghetti is a beloved favorite among campers and serves as a comforting meal, intended to facilitate the settling-in process for everyone.

After supper, campers prepared for Opening Ceremonies where our new campers would be sorted into their new sisterhoods. Former campers enthusiastically gathered in their sisterhoods, while new campers gathered at the Ark, eagerly anticipating their turn to draw a bead.

The counselors sang the girls with a heartfelt song, Jane read the Legend of the Guadalupe, and the Sponsors shared the privileges and responsibilities of belonging to a Heart Sisterhood.

Excitement filled the air as the newbies were called forward one by one to draw their beads
.
Opening Day was an extraordinary beginning to our camp adventure, leaving campers and staff alike brimming with enthusiasm for the days ahead.
---
T-Birds:

Caridee A
Aria A
Samantha B
Mox B
Royar B
Eva B
Lily B
Kendall F
Tilly G
Piper H
Maddalena J
Saige L
Mae M
Camila R
Lilly R
Maya V
Hailey V
Aubrey W
Arrows:


Lucy B
Erin B
Isabel C
Piper D
Nanda G
Charlotte H
Avery H
Ella J
Josephine K
Ameya M
Marely N
Elsie N
Lucia P
Kami R
Fiona S
Naia S
Charleigh S
Emma W
Elena Z
---
Camp is here! From the first moment that your campers set foot here this summer, we'll be sharing photos and updates. From big events to everyday activities, this is how we'll share the magic with you.

If you haven't downloaded the Campanion app and uploaded your camper's training photo, make sure to do both before the first day of camp.

After you download Campanion, use your CampInTouch Account email address and password to log in on your phone. Once you've logged in, you'll see an option to upload a training photo of your child. This enables the technology to identify your campers and receive notifications whenever they appear in camp photos.

If you've already taken these steps, just sit back and enjoy all the amazing moments we'll share this summer.
Dinner
Soup and salad bar
Caesar salad
Spaghetti
Zuchinni
Bread sticks
Cookies
Don't be afraid to give up the good to go for the great.