It all began with Jo Jones…
A brief history of Heart O' the Hills Summer Camp for Girls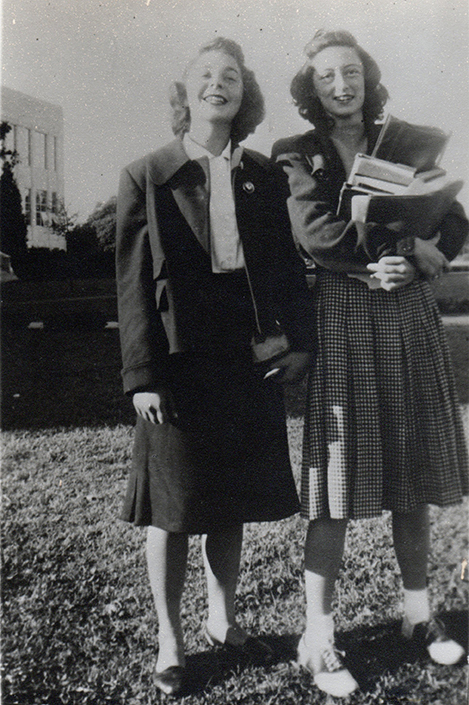 Born 1934, Jo was the daughter of Kenneth and Velma Jones, owners and innkeepers of Heart O' the Hills Inn. The inn already had a place in local history, having been built in 1928 by E.J. "Doc" Stewart as a place for moms and dads to stay when they brought their children to area camps.
After Stewart was killed in a hunting accident in November 1929, his widow sold the property to Lake Robertson, who ran it until World War II. During the war, nearby Camp Mystic leased its entire property to the U.S. Army, to be used as an R&R (rest and relaxation) facility. Kenneth Jones, who was the caretaker there, was out of a job.
Jones persuaded Col. Harold Byrd—a close friend of the Mystic owners—to buy Heart O' the Hills Inn, and let Jones run it.
Disaster hit not long after, when an ember from the chimney caught fire, burning the Lodge to the ground, in November 1947. There was just enough insurance to remove the debris, and Byrd told Jones that if he wanted it, he could buy The Heart.
The Jones family did some soul searching. They would have to take out an enormous loan to rebuild the Lodge. In the end, the Joneses rebuilt the Lodge as an inn, and made it the showplace of the Texas Hill Country. They installed air conditioning, in an age when the luxury was such a novelty that few homes anywhere could boast of it. There were thick, fireproof walls, wall-to-wall carpet, and plastic tiled bathrooms in every room.
The Heart O' the Hills became a haven for high society.
Tragedy struck again, in the spring of 1948, when Jo Jones was killed in a car wreck at the Y in Ingram.
Kenneth and Velma wanted to memorialize their outstanding daughter. Jo had attended Camp Mystic, and loved camp, and her parents believed that The Heart would be the perfect setting for a camp for girls, and began making plans to do so. That dream came true in 1953.
Kitty Magee had worlds of camping experience, so Mama and Papa Jones called upon her to serve as their first camp director. But Kitty was married and had a five-year-old daughter. She couldn't possibly run a camp! Or so she thought. She told the Joneses that she would not be able to take the job–and before she knew it, she was receiving congratulatory phone calls from people who had read in the newspaper all about it, and were excited for Kitty, and excited about the new camp. Kitty felt like she couldn't let them down.
Kitty called upon her close friends, all with camping experience, to come to her aid. Among them were Di Martin (later Mrs. William Baker) and Mary "Butter" Butterworth. Butter was a recent college graduate, and Di was in graduate school and was teaching at Ball State University.
Di and Butter had both worked at a New England camp, Di had worked at nearby Camp Waldemar, and Kitty had been director at neighboring Mystic before her daughter was born. There was a lot of camping experience here!
Mary King was an early counselor and a photographer. Mary and Di wrote most of the traditional camp songs that have permeated through today.
Many things have changed since the early days, but The Heart's most important summer camp traditions look about the same, 65 summers later. Tribes and their infectious and friendly competition, fun, skill-oriented activities, unmatched facilities, friendly atmosphere, and yes, even table manners!