Job Opportunities
Our counselors fall in several different categories based on their skill sets, certifications, and past experiences. As you apply, make sure to give us plenty of details about yourself so we can find your fit here at The Heart. Several of the jobs are described below, but there are many, many more, so don't be put off if you don't see what you do best on our list!
General Counselor
Counselors are responsible for campers ages 6-16. They live in "tepees" (which is what we call our cabins) with girls and teach daily activities based on their individual skills. These activities include some 50 options, from crochet to tennis to horseback riding. Having a specific skill set is a plus. Camp counselors serve as authentic role models and form lifelong friendships with campers and other counselors from around the world.
What We're Looking For
01

Must be at least 18 years old and have one year of college experience.

02

Must have a love for the outdoors, experience working with children, can serve as positive role models for our campers, teach the different activities offered at camp, and offer real enthusiasm for camp life.

03

Our counselors must be energetic, outgoing young women whom girls can look up to, counselors who feel equally comfortable with girls in an active fun situation, or in a quiet discussion. We want counselors who set a good example in every way, who believe in working with a team toward a goal.
Assistant Program Director
Work alongside the Program Director as a member of the head staff, planning and implementing all aspects of the camp programs.
What We're Looking For
01

Must be 21 or older.

02

Area of study including education, recreation, or event planning a plus.

03

Responsibilities include: Tallying points, overseeing and evaluating counselors, activities, and programming.

04

Head Staff is up earlier and goes to bed later than everyone else to ensure details and events run smoothly and plan for the next day. They are cheerful, outgoing, and have a genuine love for camp and the success of campers and counselors.
Wrangler
Teaching primarily Western style horseback riding and responsible for the general care of our Heart horses.
What We're Looking For
01

Must enjoy tacking and un-tacking a minimum of twenty horses every day.

02

They oversee the feeding, watering, and health of each horse.

03

Instruct daily horseback classes, Quadrille, an organized routine to music, and assist with English jumping and polocrosse. Horseback staff organizes and conducts a gymkhana each week, and an all-camp gymkhana at close of the term.
Waterfront
Enjoy your summer on the three-quarter-mile stretch of privately owned Guadalupe River front.
What We're Looking For
01

Certification or ability to become certified as an American Red Cross Water Safety Instructor or Lifeguard prior to camp opening.

02

Lifeguards ensure the safety of campers when swimming, blobbing, sliding, canoeing, or fishin'.

03

WSIs teach Levels 1-6 of the American Red Cross Learn-to-Swim lessons.
Office Assistant
The office is the window that the "outside world" uses to peer into camp! We must have friendly, intelligent, detail-oriented people answering phones and sending emails, and taking care of other aspects of making the camp operate behind the scenes.
What We're Looking For
01

The office staff serves directly under our Office Manager in communicating with parents via phone or email and assisting with paperwork and documentation of camp.

02

This position is unlike the normal counselor, as they spend a majority of their time in the office, however there is no shortage of opportunities to engage with campers.

03

Good telephone skills, oral and written communication abilities, and ease with computer programs and social media are a plus.

04

Good grammar, writing skills, and energy a must
Photographers
Photographers are responsible for taking a photo of every camper every single day and uploading to our website for parents to see. Some editing may be done.
What We're Looking For
01

Assist in taking promotional photos for marketing items for the year.

02

Must have their own point and shoot or DSLR (recommended) camera.

03

Photographers must have experience with Photoshop.

04

Assist with designing promotional material and our yearbook.
Videography
Film and edit video that is used in our promotional and memory DVD after camp is over.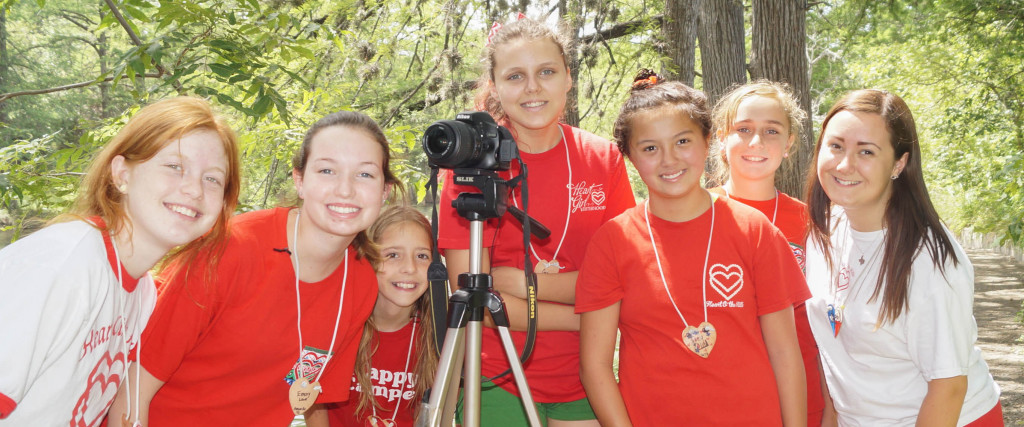 What We're Looking For
01

You will also direct and script our, "Heart O' the Matter" daily television newscast with the assistance of our campers in the video class.

02

Receive training with CAMP TV before camp starts and possibly end up with an internship with them.

03

Must have knowledge of editing with Final Cut Pro.

04

Keep the final project for your personal portfolio.
Registered Nurse
As an American Camp Association accredited residential camp, we need to have a licensed physician or registered nurse on site daily.
What We're Looking For
01

The nurse is our first responder and makes the call of when to take a child to the doctor or hospital.

02

Another motherly figure when a camper is (home) "sick," to provide a cheerful and warm smile.

03

Housing and meals are provided.
Support Staff
What We're Looking For
01

Must be 18 or older and be willing to work hard.

02

Experience in maintenance, landscaping, or construction a plus.

03

Must be willing to tackle the dirty jobs of camp, work hard and always be on call.

04

Must be able to work well with others. Spanish a plus.
Follow the link to the right to sign up for the best summer of your life!