Fun fact: Doc Stewart established Camp Stewart for Boys in 1924, and Heart O' the Hills in 1928. The ownership was soon split up. Yet a half century later, the properties came again under a single umbrella. Here is how that unfolded.
Doc Stewart's life, in mid-career, came to a horrible end in 1929. Accompanying a group of inn guests on a deer hunt, Doc Stewart was mistaken for a deer, shot and killed. Mrs. Stewart eventually sold his Hill Country business interests. Heart O' the Hills Inn was sold in January 1932 to the family of Lake Robertson, who owned and operated it until the mid-1940's, when D. Harold Byrd and Kenneth Jones bought it. The Joneses converted "The Heart" into a camp in 1953.
With the consummate leadership of Kitty Magee, Heart O' the Hills Camp operated under the Jones ownership through the summer of 1967. After that summer, the Carl and Diane Hawkins family bought the camp, running it for nine summers.
Hawkins family takes ownership
Carl and Diane had six sons, yes six! The older boys worked at the camp. I can attest that every camper chose which Hawkins she had a crush on. But Carl and Diane kept a watchful eye on them. I know this because my Heart career began with my first summer as a camper in 1969.
This is where the story turns personal for me.
The Hawkins added many non-traditional offerings to the camp program. They introduced water skiing and sailing (which both took place on Lake Ingram, by the famous dam), driver's education and judo. Carl had been active in scouting and served in the Navy. He had a sweet demeanor, melodious voice, and a zest for fun.
After their youngest son, who had lifelong health problems, passed away on Opening Day of camp in 1976, the Hawkins decided to sell or close the camp.
Ragsdale Ownership
During that same era, starting after the summer of 1966, Si and Kathy Ragsdale began purchasing Camp Stewart, just seven miles away from The Heart, on the other fork of the Guadalupe River. When their family moved to Stewart from Denton, the kids were seven, nine and 11. Juli and Jane attended camp nearby every June. They moped around Stewart wishing to participate with the boys during July and August. This was not allowed.
It became clear after a couple of awkward summers that Jane and Juli needed to go to girls' camp all summer. I was all for this! I loved camp, and had already declared to my parents that I would run Stewart when I grew up. They declared right back to me that girls did not run boys' camps, so that would not be a career option for me.
Still, I never stopped loving camp, and never missed a summer of attending or working at one. So when the adult Ragsdales caught wind of the Hawkins' situation, they began to formulate a plan to acquire it. I was only 19. I didn't know anything about it until one night they called me at the dorm (phone down the hall!). "What would you think if we bought Heart O' the Hills?"
For me it was a no-brainer. YES!
And with that, the deal was sealed. Heart O' the Hills and Stewart returned to their roots–with one ownership.
Ragsdales and Moores partner up
Si and Kathy's schemed to bring in partners Whayne and Bobbie Moore as the directors. The Moores had four young children. They were fun and likeable, energetic, and knew no strangers. What they lacked was camp experience. But, that's where my parents and I came in.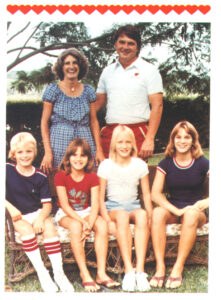 It amazes me, as I look back, that our parents brought in us four children as actual individual owners. Each of us put in a small amount from our savings accounts. It was enough for us to each have a 10% stake.
Our first summer as owners, I was too young (by ACA standards) to be program director. So, we brought in Sandy Wallace for that role. Sandy had twice been my cabin counselor at The Heart. She patiently taught me the ropes, with the understanding that I would take over her position beginning in 1978.
The Moore-Ragsdale partnership continued for 10 years, through the summer of 1987, after which the Ragsdales bought out the Moores. That's when I was named director.
Time brings changes–or not
Over these past 45 years as an owner, I have seen changes—some physical, some social, some programming—and all in response to the world around us. For example, times were hard when the Ragsdales bought out the Moores. There had been a big savings and loan collapse. Our longtime relationship with Charles Schreiner Bank in Kerrville dried up—because our bank was bought out by what was then called NCNB. Actually North Carolina National Bank, it was less-than-fondly referred to by many as "no cash for no body".
We searched frantically for a new bank. Thankfully we ended with Brenham National, which was owned by a Camp Stewart camper dad, Skipper Dippel. The bank extended us a generous loan. So we started moving heaven and earth to implement impressive improvements before the gates opened on Summer 1988. We moved our offices to The Village, put a new entrance and aviary there, new phone system, and more.
Over the next 25 years or so, we remodeled Mesa Manner (the director's home), constructed from scratch a caretaker's home (Nuts & Bolts), the Staff Pads (Brillo Pad and Saddle Pad) for kitchen and horseback staff upstairs and vehicle parking beneath, and a house for the office manager.
There were deep remodels of the Lodge (including the addition of a fourth floor and expanded and more accessible attic), the Dwellings, Abrigo, Adobe and the men's bunkhouse. In short, every living quarters on camp. Orenda, the wellness center, was relocated, and its old site became the LITe House. The Trading Post was moved several times, as was the counselor Playroom. They permanently reside under the roof of the former Shop.
At the same time, we have held on to the things that are the essence of camp: the feeling of sisterhood, the intimate size—small enough that everyone can be known, and feels their influence in all that happens– the presentation of challenges and growth opportunities for every camper and staff member, and joyous singing!
For me the greatest compliment of all is when someone who's been gone for years returns and says, "Wow! It's exactly as I remember it!"