Are you wondering if a summer of fun at camp would contribute to your professional life via résumé? Wondering how to neatly display the whirlwind of your summer onto your résumé? Looking for examples? We have you covered! The tools to effectively run, and participate in, a healthy camp community are the same ones employers and colleges value in their applicants.
Here is a list of some of the 21st Century Skills, and a few examples of how counselors employ them over the summer:
Critical Thinking
Critical thinking is the Swiss-army knife of the camp counselor. We demonstrate critical thinking while addressing behavior patterns, writing parent reports, navigating Overnight, and so much more!
Creativity
Drafting and implementing your activity lessons involves a lot of know-how and creativity! A candidate that has written and implemented flexible lesson plans stands out!
There was that rather sentimental tepee night idea you had- where you and your kiddos made special t-shirts to commemorate the bond y'all developed during the term. Good job on creatively inspiring gratitude and cohesion among your group.
Oh, and then there was that movie night the projected image didn't fit on the screen quite right, so you grabbed some books and configured them to hold the projector at the perfect angle. That's resourcefulness to ensure the smooth operation of an evening activity!
Collaboration
Between battling with the inflatable movie screen, searching for the right extension cord, and wrangling over thirty kids at once with your new best buds, what's not to love about movie night? Collaboration was the key to success when divvying up all the different duties of movie night- soda and candy distribution, carrying out the screen, laptop, projector, locating the ever-elusive extension cord.
How about getting together with your co-counselors about everything from establishing cabin dynamics to discussing methods to help a camper break out of her shell? That's collaboration in a few shades of valuable.
Oh, hey, didn't you also lead campers in collaborative projects and teach them ways to work with each other? That's right you did!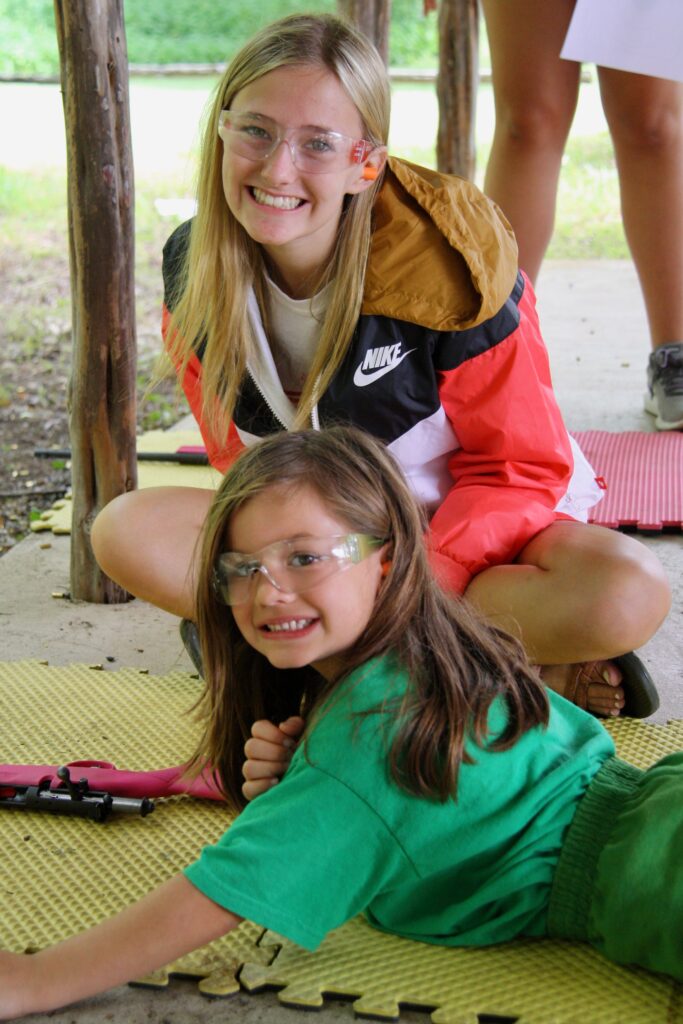 Communication
Those Parent Reports that may or may not have been the most difficult part of the job? Official detailed reports that exemplify your written communication prowess, and your attention to the character and development of each one of your charges.
The classes you taught are a testament to your oral communication skills. Did you safely, confidently, and effectively teach riflery to ten six year olds at once? Yer darn tootin' you did! Did it require patient and thorough instruction? Absolutely.
Teaching young ladies how to effectively express themselves and appropriately communicate with their peers is no small task, yet you have reflexively done it!
Flexibility
If you were here in 2020, you are an unofficial mental contortionist! Everything changed at the drop of a hat, and we had to roll on like the waters of the Guadalupe. Even if you weren't here in 2020, you know how essential adapting to situations is for success at camp (and beyond.)
Numerous girls have signed up for a particular role at camp, then out of necessity had to step up to the plate to fulfill other roles. Show off on your résumé that you're capable of rising to any challenge!
Leadership
Counselors are a shoe-in for basic group management. You are always leading campers, even if you aren't actively trying. But you are also setting an example for your fellow staff members.
Leadership isn't just for Sponsors, Division Leaders, or Head Staff- it's also for that selfless counselor that exemplifies hard work and compassion to her peers.
Initiative
There's that HUGE evening activity right after dinner, and it's going to take forever to set up. So why not get to it now while you have a moment? On your résumé, that looks a lot like utilizing your free time to get ahead on projects.
Productivity
Need there be a paragraph for this? You were on the clock nearly 24/7, eight days a week!
Social Skills
A potential employee or student's contributions to the community are important to employers and colleges. Will this applicant compliment and bolster the traits of their peers, or will they siphon the energy of those around them?
There are dozens of specific instances where your guidance has helped others. There was that time when you helped a midget calmly express her feelings, explaining to her why apologizing is the right course of action. Or there was the time that you explained to a group of sophomore girls, who were consistently excluding one of their cabin mates, that it is important to treat others as you would like to be treated.
Social skills are your forte and part of what camp is all about! We are community builders. We foster sisterhood through encouraging integrity, appreciation for each other, and teamwork. Camp's reputation for community building will stand out on your résumé.
Camp is Youth Development
Being a camp counselor is not only a really fun job, it's youth development. Over the course of a few weeks you make an enormous impact on several girls. Your impact is more than just canoe or art lessons, it's life lessons. Lessons on how to stand tall when feeling small, how to help each other up, and how to celebrate other's success as one's own. You spend your summer as an agent of youth development.
Camp creates numerous opportunities for you to practice and demonstrate your aptitude as a resilient community builder. Hearten your résumé with the magic of camp!
We make a living by what we get, but we make a life by what we give. –Winston Churchill
Get out there and brag on yourself a little! <3 Kimber